BY STEVE THIRIOT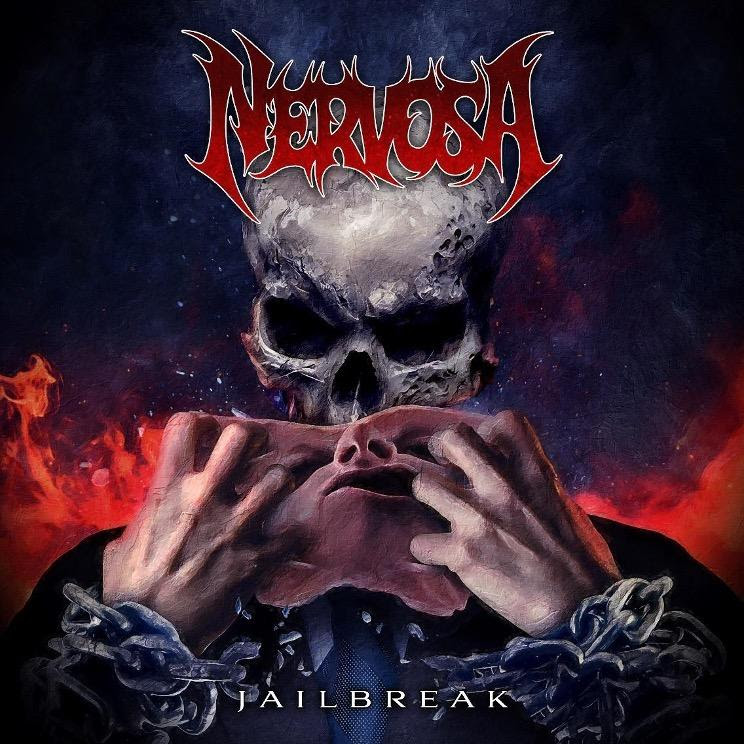 In a world where thrash metal has faced waves of evolution and diverse sonic landscapes, NERVOSA stands as a firm testament to the genre's unyielding spirit. The band returns with their fifth studio album, "Jailbreak," via Napalm Records, unleashing a sonic beast that pays homage to the genre's roots while exploring new territories.
"Jailbreak" kicks off with "Endless Ambition," setting the stage with ferocious riffs and rhythmic complexity. The track showcases the band's unwavering energy and commitment to delivering brutal sonic landscapes, marking a promising start to the album. The journey continues with "Suffocare" and "Ungrateful," with each track offering a relentless blend of thrashing guitars, dynamic drumming, and fierce vocals.
"Seed of Death" stands out with its epic instrumentals and lyrics, The brutality and introspection in this track demonstrates NERVOSA's ability to blend aggression with depth, capturing the listener's mind as well as their senses.
The title track "Jailbreak" serves as the album's cornerstone, showcasing the band's versatility and compositional prowess. It's a relentless assault of thrash metal that pushes boundaries while remaining true to its roots.
"Sacrifice" exhibit NERVOSA's refined sound. This tracks pulsating beats and ruthless riffs exemplify the band's ability to blend melody with mayhem, creating an immersive soundscape.
"Behind The Wall" & "Kill Or Die" These tracks are a relentless assault on the senses, showcasing the band's ability to craft thrash anthems that are as visceral as they are vehement.
The album is sprinkled with collaborations that elevate its sonic impact. "When The Truth Is A Lie" features the legendary Gary Holt (Slayer), whose guitar work complements NERVOSA's sound, creating a symphony of controlled chaos. Meanwhile, "Superstition Failed" sees Lena Scissorhands (Infected Rain) lending her unique voice, adding a new dimension to the band's sound and expanding the album's sonic palette.
"Gates To The Fall" & "Elements Of Sin" - These tracks delve deeper into the darker realms of thrash metal, exhibiting the band's mastery over their genre and their ability to create compelling narratives through their music.
"Nail The Coffin"  The album concludes on a high note, leaving the listener yearning for more. This final track is a fitting end to a sonic journey that is as tumultuous as it is triumphant.
NERVOSA's "Jailbreak" is a brutal celebration of thrash metal's essence, blending traditional elements with innovative twists. The album showcases a band that's not afraid to evolve while paying homage to their roots. The new lineup brings a renewed energy and diversity to the band's sound, promising a bright future for these thrash metal frontrunners.
"Jailbreak" is a relentless, fierce, and philosophically rich addition to NERVOSA's discography. It's a testament to their ability to craft thrash metal anthems that are both aggressive and thoughtful. Whether you're a seasoned thrash metal veteran or a newcomer to the genre, "Jailbreak" is a must-listen, a relentless ride through the depths of human experience and the highs of musical brutality. "Jailbreak" is not just an album; it's a statement, a manifesto of thrash metal's enduring spirit and NERVOSA's unwavering commitment to the genre. This is a band that's breaking the chains and setting the stage for a new era of thrash metal. The jailbreak has begun, and NERVOSA is leading the charge.
Listen to the Album on SPOTIFY