BY STEVE THIRIOT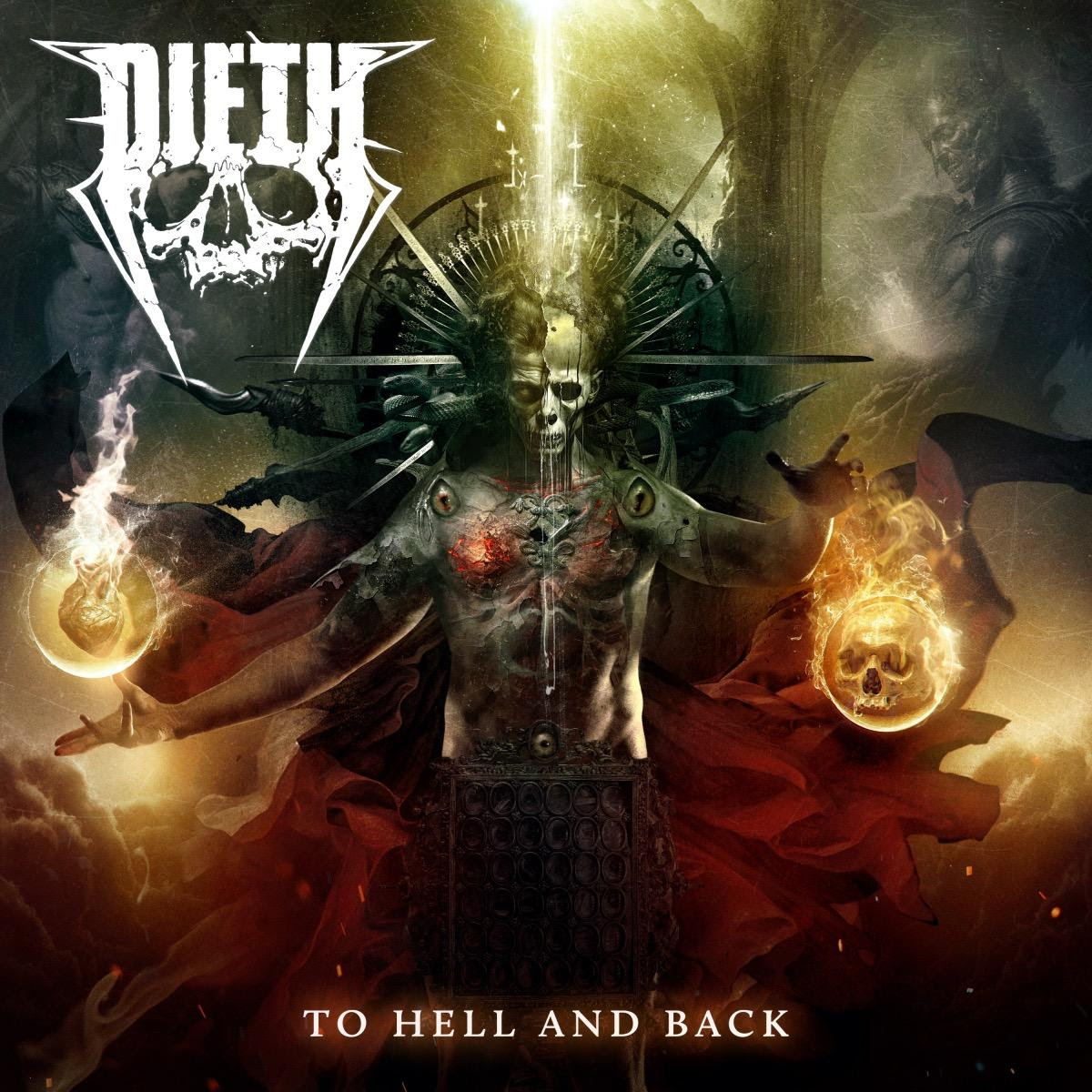 DIETH's new album "To Hell And Back" is a colossal statement to the power of heavy music. Comprising of a legendary lineup featuring David Ellefson, Guilherme Miranda, and Michał Łysejko, this album is an unapologetic declaration of what happens when titans of metal unite.                                                                                                                                   The opening title track, "To Hell And Back," sets the stage for an epic auditory journey. Ellefson's bass is a rumbling behemoth, laying down a sonic foundation that's both mighty and invigorating. Miranda's guitar work is nothing short of virtuosic, weaving intricate tapestries of sound that capture the essence of metal's glory days. When paired with Łysejko's percussive mastery, the result is an adrenaline-fueled powerhouse that resonates long after the last note has faded.                                                                                                                                                                  "Don't Get Mad ... Get Even!" showcases the band's impeccable chemistry. The synergy between Ellefson and Miranda is palpable, their instruments conversing in a language forged in the fires of metal's golden age. Łysejko's drums provide the perfect counterpoint, propelling the song forward with precision and ferocity.
"Wicked Disdain" is a brutal ode to the darker side of human nature, its lyrics painting vivid imagery that's perfectly complemented by the relentless assault of the instruments. "Free Us All"  a solid track showcasing the bands versatility as accomplished musicians. Its soaring guitar solo's and triumphant chorus are destined to be a crowd favorite.
"Heavy Is The Crown" is a slow-burning epic, its weighty riffs and Ellefson's thunderous bass creating a soundscape that's both ominous and awe-inspiring. The pace slows down a bit with "Walk With Me Forever," a solemn track that showcases the band's knack for crafting songs that are both complex and instantly accessible.
"Dead Inside" is a visceral exploration of inner turmoil, its guttural vocals and chugging riffs creating an atmosphere of chaos and despair. "The Mark Of Cain" is a testimony of precision, its intricate guitar work and rapid-fire drums leaves listeners in awe of the band's technical prowess.
"In The Hall Of The Hanging Serpents" is a sonic juggernaut, its monstrous riffs and pounding drums are foundational to the band's ability to craft music that's both brutal and beautiful. The album closes with "Severance," a poignant farewell that leaves the listener eagerly anticipating DIETH's next chapter.
"To Hell And Back" is an absolute triumph. DIETH has crafted an album that's not only a testament to their individual talents but also a testament to the unyielding power of heavy metal. It's a brutal, beautiful, and utterly captivating journey that's guaranteed to leave a lasting impact on all who dare to take the ride.
Listen to the Album on SPOTIFY